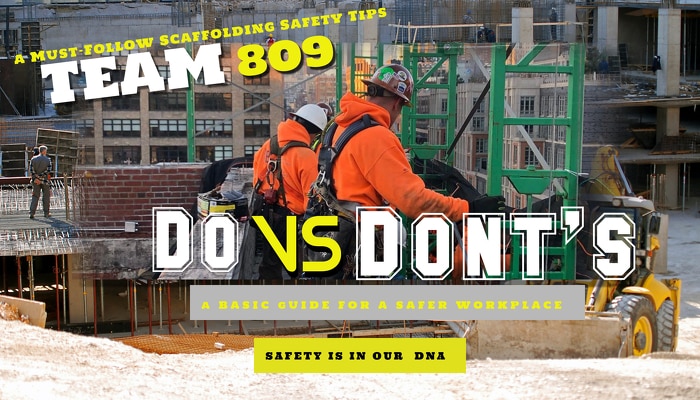 Do and Donts of Scaffolding Safety
The Construction Laborer is increasing year after year. With more Demand for high skill Workers, Scaffolding Safety is playing a bigger role in daily Job tasks.
OSHA Reports indicate that scaffolds industries contribute to thousands of injuries and dozens of fatalities every year.
By improving our safety standards and educating our crews, We create a more safe environment and awareness community around daily construction projects.
Team 809 Practice Safety First. Below we summarize some important do's and don'ts related to working on scaffolding that you can use to keep yourself and your fellow workers safe:
Must-Follow Scaffolding Safety Tips:
DO Get trained before working upon scaffolding. Each worker should be trained by a qualified person just before functioning on scaffolding. Online Training includes the identification associated with (and how to avoid) hazards that could arise upon job sites including scaffolding, like electrocution, falls, plus falling objects.
DO examine the scaffold before making use of it. A competent person needs to inspect the scaffold just before each shift to confirm that all scaffold elements are functioning Correctly plus are properly assembled, examining for any damage, particles, or other unsafe circumstances. You may choose in order to use scaffold inspection labels to provide a comprehensive list of the protection requirements and intended makes use of.
DO stay mindful from all times from the employees above and below in your work area. Falling objects really are a serious hazard on scaffolds, plus falling items can endanger other workers sharing the scaffold. If you notice any hazardous conditions or improper activity, stop and address the hazard immediately and/or alert your supervisor.
DO wear proper Personal Protective Equipment (PPE) at all times. For scaffold work, hard hats, non-slip shoes or boots, and personal fall protection systems are all appropriate. Be mindful to inspect personal fall protection equipment for damage and wear prior to use, and anchor the system to a safe point that won't allow you to free fall more than six feet.
Don'ts;
 DON'T leave any tools, materials or debris on the scaffolding platform, including at the end of your shift. These objects could create a tripping and safety hazard for the next person to use the scaffold or could be knocked or blown off the scaffold and strike someone below.
 DO NOT overload the scaffolding. Just about all scaffolds are rated with the manufacturer to withstand the maximum load capacity structured on the frame plus design of the scaffolding and its components. Simply no matter how sturdy the scaffold seems, never go beyond the weight capacity restrict specified by the producer.
DON'T use if the particular scaffolding appears damaged, improperly assembled, tampered with, or even has parts missing.
DO NOT use when the scaffolding is usually covered with ice, snowfall, mud, wet leaves or even other debris that can create a slipping threat, or during strong gusts of wind or storms.
DON'T climb up on any part associated with the scaffolding that is usually not intended for hiking or stand on the particular guardrails, ties, or plug-ins.
DON'T utilize a ladder or even another object to obtain additional height along with the scaffold.
DON'T move cellular scaffolding or load/unload scaffolding while it is within the use or occupied.
Reports and statistics show that a major contribution to scaffold injuries are related to the Jobsite accident either to the planking or support giving way or to the employee slipping or being struck by a falling object. Thankfully, all of these can be avoided by adhering to OSHA regulations and following the suggestions outlined here.
Scaffolding Safety Training is very important. Team 809 recommends taking our online safety and training courses and take advantage of our affordable membership fees